UPSC IAS Prelims 2021: Monthly Current Affairs & GK Topics for Preparation | November 2020
Read about Atlantification, Consol Bonds, Biodiversity Governance, New LAbour laws 2020 and other important current affairs of the month of November 2020. Questions based on any of these topics can be asked in the UPSC IAS Prelims 2021 exam.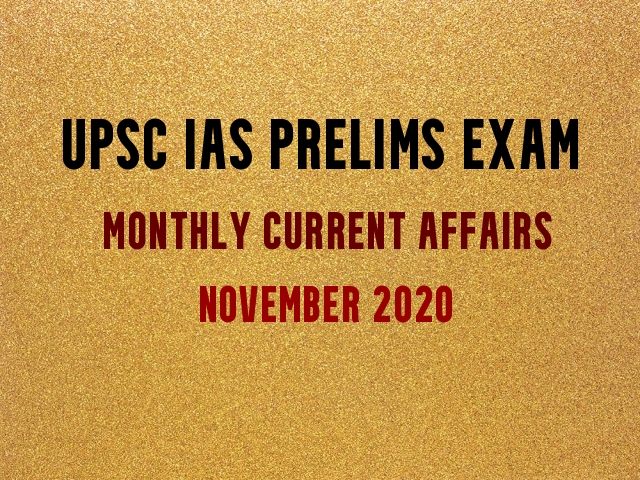 UPSC IAS Prelims Monthly Current Affairs & GK Topics November 2020
UPSC IAS 2021: UPSC will conduct the IAS Civil Services Prelims 2021 exam on 27th June for the recruitment of candidates in the Civil Services of India. In IAS Prelims Paper 1 General Studies, questions are asked from Current Affairs and events, General Science, History, Geography, Polity, Economy and Environment. As per UPSC IAS Previous Years' Paper of the past few years, the current affairs section forms the major part of General Studies Paper 1. Going by this trend, it is highly expected that this year as well, questions might be asked on current events of the past year. Considering this, we have compiled below the important current affairs for the month of November 2020.
Also check: Monthly Current Affairs & GK Topics of December 2020 for UPSC
Topic 1: Atlantification
Recently, scientists have found evidence that frozen methane deposits in the Arctic Ocean have started to release over a large area of the continental slope off the East Siberian coast.
About Atlantification
1- Streams of warm water from the Atlantic Ocean flows into the Arctic Ocean at the Barents Sea.
2- The Arctic Ocean receives 'sea ice' each year which is blown in from the central Arctic Ocean by the wind, in addition to the sea ice at its surface. During spring and summer, the imported sea ice melts, providing an influx of freshwater to the Barents Sea.
3- The Atlantic water is warmer, saltier and is quite deep under the more buoyant Arctic water at the surface. Thus, the heat in the Atlantic water is preventing ice from forming and is melting existing sea ice from below. This process is termed as 'Atlantification'.
Topic 2: Pinaka Rocket System
On 4 November 2020, an enhanced version of the Pinaka Mk-1 Missile, developed by the DRDO has been successfully flight-tested from the Integrated Test Range in Chandipur, off the coast of Odisha. This was in continuation of a number of missile trials conducted by the DRDO in the last two months.
As per the DRDO officials, the enhanced version of the Pinaka Mk-1 Missile was developed to achieve longer-range performance compared to the earlier design with lesser length. These six Pinaka Regiments would comprise 114 Launchers with Automated Gun Aiming and Positioning System (AGAPS), 45 command posts and 330 vehicles. Named after Shiva's bow, Pinaka is a multi-barrel rocket launcher (MBRL) system. It is comprised of six launch vehicles and is accompanied by loader systems, radar and links with network-based systems and a command post. Read more
Topic 3: World's first 6G satellite
1- On 6 November 2020, China launched the world's first 6G satellite into space in order to test new spectrum bands that will be used for future communications.
2- It was jointly developed by Chengdu Guoxing Aerospace Technology, UESTC, and Beijing MinoSpace Technology.
3- The satellite will be used to verify the performance of 6G technology in space as the 6G frequency band will expand from the 5G millimetre wave frequency to the terahertz frequency. Read more
Topic 4: Mission Sagar-II
In continuation of the ongoing humanitarian mission 'Sagar-II', INS Airavat arrived at Port Djibouti on 10 November 2020. It is in line with the 'Mission Sagar' undertaken in May-June 2020.
INS Airavat will deliver food aid to Sudan, South Sudan, Djibouti and Eritrea. The Indian Navy is progressing this mission in close coordination with the Ministries of Defence and External Affairs, and other agencies of the Government of India.
Topic 5: Varunastra
In a major boost to Atma Nirbhar Bharat, the first Production unit of Heavy Weight Torpedo (HWT), Varunastra, developed by BDL Vishakhapatnam for Indian Navy was flagged off on 21 November 2020. The HWT is designed by the Naval Science and Technological Laboratory (NTSL), DRDO.
1- As per DRDO, Varunastra is a ship-launched, heavyweight, electrically-propelled anti-submarine torpedo capable of targeting quiet submarines, both in deep and shallow waters in an intense countermeasures environment.
2- Varunastra can be fired from all ASW ships capable of firing heavyweight torpedoes.
Topic 6: China's Chang'e-5 Mission to Moon
China launched its ambitious robotic lunar mission, Chang'e 5 on November 23, 2020, from Wenchang Space Launch Center in Hainan. If successful Chang'e 5 would collect pristine moon samples and return back to Earth in mid-December. This is something that hasn't been done since the Soviet Union's Luna 24 mission was launched in 1976.
Chang'e 5, is China's first-ever sample-return mission and is the sixth and most ambitious mission in the series of Chang'e program of robotic lunar research. It is named after a moon goddess in Chinese mythology.
Topic 7: Indian Regional Navigation Satellite System (IRNSS-NavIC)
Adding to its list of achievements, India became the fourth country in the world to have its independent regional navigation satellite system developed by ISRO. The Indian Regional Navigation Satellite System (IRNSS) with its operational name of NavIC (Navigation with Indian Constellation) has been recognised by the International Maritime Organization (IMO) as a part of the World Wide Radio Navigation System (WWRNS) for operation in the Indian Ocean Region.
It is India's independent regional navigation system designed to provide accurate position information service to assist in the navigation of ships in the Indian Ocean Region. NavIC is certified by 3GPP (3rd Generation Partnership Project), responsible for coordinating mobile telephony standards globally.
Topic 1: Plain Vanilla Bonds
'Plain Vanilla Bonds' are the most basic type of bonds, having a fixed coupon payment at pre-determined fixed intervals with a pre-determined maturity. Furthermore, the face value of the bond is also pre-determined and the investor receives the bond at the face value on the date of maturity. Read more details here
Topic 2: Consol Bonds
Consol Bonds are fixed-income bonds without a maturity date and are also known as perpetual bonds. Consol Bonds are considered as a type of equity and the investors will be paid a steady stream of interest forever. Thus, it can be said that Consol Bonds are a type of debt instruments and can be redeemed at issuer's discretion.
The Consol Bonds were issued in 1917 by the British Government to raise funds for financing World War I. The Consol Bonds paid 5% interest to the investors. The Consol Bonds in the UK were mostly owned by the small investors and over 70% of the holding was less than £1,000. In 2014, 10% of the total outstanding debt of the consol bond was paid by the British Government. Read more
Topic 3: Difference between Recession and Technical Recession
| | | |
| --- | --- | --- |
| S.No. | Recession | Technical Recession |
| 1. | When a recessionary phase sustains for a considerable length of time, it is known as a recession. | A technical recession is when a country faces a back-to-back decline (for two consecutive quarters) in the GDP. |
| 2. | It covers a wide range of decline in economic activity, covering several economic aspects such as employment, household, corporate incomes and so forth. | It is mainly used to snapshot the trends in GDP. |
| 3. | It is of long duration. | It is of short duration. |
| 4. | It is not caused by a single off event. | It is often caused by a single off event. |
Topic 1: Biodiversity Governance
Biodiversity governance is needed to guarantee a reasonable and evenhanded sharing of hereditary resources. As India is a key mega-biodiversity nation and has a repository of genetic resources associated with flora and fauna, it is essential to re-examine the integration of the availability of resource with mankind's development needs.
Besides this, biodiversity governance should guarantee that any use of information on bio-assets has an immediate advantage to the communities that have been the overseer of this conventional information. Read in detail
Topic 2: National Transit Pass System (NTPS)
On 23 July 2020, the Union Environment Minister Prakash Javadekar virtually launched the National Transit Pass System (NTPS) at Indira Paryavaran Bhawan in New Delhi. The system is currently under pilot testing in Madhya Pradesh and Telangana.
The National Transit Pass System (NTPS) is an online transit pass generation system for inter-state and intra-state transportation of timber, bamboo and other forest produces from private lands/government/private depot. The system will be used for issuance, monitoring and maintaining records of transit permits.
Topic 3: India's first Green Energy Convergence Project
On 17 November 2020, Energy Efficiency Services Limited (EESL), a joint venture of Public Sector Undertaking (PSU) under the Ministry of Power and Department of New & Renewable Energy (DNRE), Goa, signed an MoU to discuss rolling out of India's first Green Energy Convergence Project in the State.
It is the country's first project to generate green energy for rural and agriculture consumption in the state of Goa and is in line with the International Solar Alliance, a GOI initiative. Read more
Topic 4: Desalination plants
The plants which turn salty water into water that is fit for consumption are called desalination plants. Two desalination plants are set up in Indian state of Tamil Nadu, while they are underway in Gujarat, Andhra Pradesh and Mumbai.
The Indian State of Tamil Nadu has two desalination plant near the capital, Chennai. One was set up in 2010 while the other in 2013. The two of them supply 100 MLD each to Chennai.
Topic 5: First Indian city to get an ISO 9001:2015 Certification
The capital city of Odisha, Bhubaneswar became the first Indian city to get an ISO (International Organization for Standardization) 9001:2015 Certification for 'Faecal Sludge and Septage Management (FSSM) services'. Bhubaneswar Municipal Corporation (BMC) was the first civic body to implement FSSM regulations in the State.
In February 2017, the National Policy on Faecal Sludge and Septage Management (FSSM) was launched by the Ministry of Urban Development, GOI. It is in line with Prime Minister Modi's Swachh Bharat Abhiyan and is a part of Atal Mission for Rejuvenation and Urban Transformation (AMRUT) Scheme. Read more details here
Polity and International Relations
Topic 1: RCEP Agreement
It was signed virtually on November 15, 2020, by 15 nations in the ASEAN Summit. The Regional Comprehensive Economic Partnership (RCEP) is a free trade agreement in the Asia-Pacific region between the ten ASEAN Members and five of their FTA (Free Trade Agreements) partners-- Australia, China, Japan, New Zealand, and South Korea.
4- It is the first free trade agreement between China, Japan, and South Korea (three of the four largest economies in Asia), and is the first multilateral free trade agreement to include China. Read details
Topic 2: SITMEX-20: Trilateral Maritime Exercise between India, Singapore and Thailand
From 21 to 22 November 2020, Indian Navy Ships including indigenously built Anti-Submarine Warfare (ASW) corvette INS Kamorta and missile corvette INS Karmuk participated in the second edition of India, Singapore and Thailand Trilateral Maritime Exercise SITMEX-20. The 2020 edition of the trilateral maritime exercise was hosted by Republic of Singapore Navy (RSN).
In June 2018, during his address at Shangri-La Dialogue, Prime Minister Modi announced about the annual trilateral maritime drill between India, Singapore and Thailand.
Topic 3: New Labour Laws 2020
On the recommendations of the Second National Commission on Labour (2002), the Central Government proposed to replace 29 existing Labour Laws with four Codes to simplify and modernise labour regulation. The major challenge was to facilitate employment growth while protecting workers' rights.
The Labour Codes which were passed in both the Houses of the Parliament and received Presidential Assent. Read details on all the laws here
Topic 1: Agricultural Produce Market Committee (APMC)
It is a marketing committee which operates under the State Governments in India.
2- The APMC was introduced to safeguard the farmers from exploitation by creditors and other intermediaries.
3- The committee also ensures that the farm to retail price does not reach unreasonably elevated levels and timely payments are made to the farmers via the auctions in the APMC markets.
4- Before the introduction of the Farmers' Produce Trade and Commerce (Promotion and Facilitation) Act, 2020, the farmers can only sell their agricultural produce at the market yards of APMC. Read more
Topic 2: National Agricultural Education Policy
India's first National Agricultural Education Policy will bring academic credit banks and degree programs with multiple entry-exit alternatives to the 74 universities focussed on crop sciences, fisheries, veterinary and dairy preparing and research.
The multiple entry and exit will allow the students to earn a diploma or an advanced diploma with a choice to re-enter as and when they are able to resume their studies and earn a full college degree.
The process for formulating the National Agricultural Education Policy was started two months ago, after the release of the National Education Policy (NEP) 2020. The National Agricultural Education Policy is in tune with the NEP and will strengthen the agricultural education system in the country. Read more
Topic 3: Bolivian 'Chapare' virus
Chapare hemorrhagic fever (CHHF) is a viral hemorrhagic fever which is caused by Chapare virus of the Arenavirus family. Arenaviruses mainly spread to individuals through direct contact or indirectly through the urine or faeces (droppings) of an infected rodent.
As per the CDC, the exact types of rodents which cause this virus are unknown yet. However, similar Arenaviruses are either transmitted through direct or indirect contact with the saliva, urine, and faeces (droppings) of infected rodents.
We sincerely hope that the given topics would have helped you in your Prelims preparation. You can also check the below link to keep yourself updated on the latest GK quiz and events.
Also Check: Monthly Current Affairs Questions for Preparation | December 2020
UPSC Civil Services (IAS) Prelims 2021: Subject-wise Study Material for Complete Preparation