Current Affairs in Short: 23 March 2020
The International Olympic Committee (IOC) will make a decision on postponing the Tokyo Olympics within four weeks.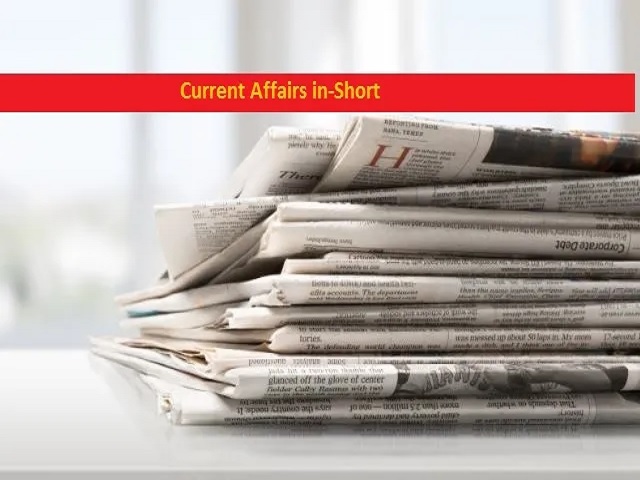 Current Affairs inshort
World Water Day 2020 observed
The United Nations started celebrating "World Water Day" to make every citizen of the world aware of the importance of water. It was initiated in 1992 during the United Nations Conference on Environment and Development (UNCED) held in Rio de Janeiro.
World Water Day was observed for the first time in 1993 on March 22. Since then, this day is celebrated every year on March 22 to create awareness among masses. This day informs us about the importance of water.
Every year a theme is set for World Water Day. This time the theme is 'Impact of climate change on water resources' i.e. to make people aware of how climate change is impacting water resources.
IOC to decide postponement of Tokyo Olympics within four weeks
The International Olympic Committee (IOC) will decide on postponing the Tokyo Olympics within four weeks. Canada has clearly stated that it will not send its team to these games.
The IOC has been continuously saying so far that the games will start on July 24, although other sports tournaments have been cancelled worldwide due to Covid-19. Now, the IOC finally accepted that the possibility of postponing the Olympics could be considered.
The Olympic Committees of Brazil and Slovenia have also said that under these circumstances they cannot send their players for the Olympics. IOC President Thomas Bak has written a letter to inform media why IOC is taking this much of time to make a decision.
USA successfully test-fires hypersonic missile
The US defence organization has successfully test-fired its first hypersonic missile recently. According to the Defence Ministry Pentagon, the speed of this missile will be at least five times more than the speed of sound.
This missile will attack the enemy at a speed of more than 6,200 kilometres per hour. This ballistic missile will be capable of carrying nuclear warheads. This step has been taken in response to Russia's hypersonic missile.
A hypersonic missile is considered the world's fastest attack missile. This can change the direction of any war. Its speed can also dodge radar and air defence systems.
Satyarup Siddhanta becomes first Indian to complete volcanic Seven Summit
India's mountaineer Satyarup Siddhanta has recently climbed the highest volcano in seven continents and recorded his name in the 'Limca Book of Records'.
He holds the record for becoming the first Indian to climb the highest volcano in all the 7 continents of the world. Earlier, in January 2019, he achieved the record of climbing the highest peak of the seven continents of the world.
He already has registered his name in Guinness Book of World Records, India Book of Records, Asia Book of Records, British Book of Records and Champion Book of Records.
Coronavirus lockdown improves air-quality: Report
According to the recent report published by the World Meteorological Organization (WMO) lockdown around the world has slashed the pollution and improved air-quality worldwide. However, WMO said that it is not a concrete action because it has resulted in an economic slowdown.
WMO mentioned in its report that the reduction in production activity and lockdown in China led to an estimated 25% reduction in carbon dioxide (CO2) emissions.
The European Union's Copernicus Atmospheric Monitoring Service said that Italy has also witnessed a reduction in air-pollution in past three-four weeks due to lockdown. Experts have found that level of Nitrogen dioxide has been significantly reduced.
Take Weekly Tests on app for exam prep and compete with others. Download Current Affairs and GK app
एग्जाम की तैयारी के लिए ऐप पर वीकली टेस्ट लें और दूसरों के साथ प्रतिस्पर्धा करें। डाउनलोड करें करेंट अफेयर्स ऐप
Android
IOS