Current Affairs in Short: 24 March 2020
The Union Cabinet has recently approved a scheme to develop three mega drug parks in India.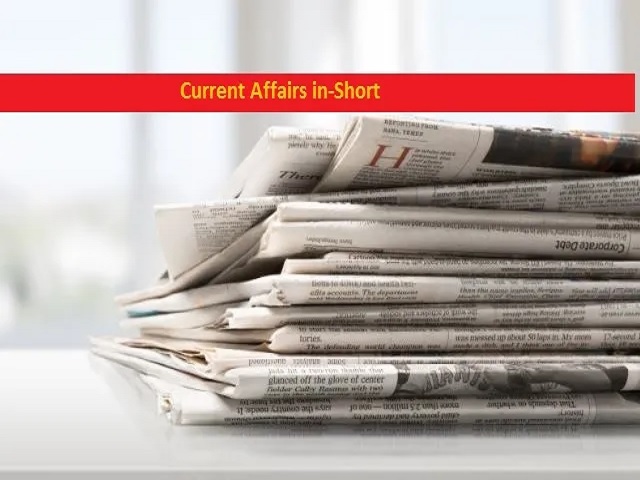 Current Affairs inshort
Cabinet approves scheme to develop 3 mega bulk drug parks
The Union Cabinet has recently approved a scheme to develop three mega drug parks in India. Apart from that, the cabinet has also approved another scheme called Promotion of Bulk Drug Parks and Production Linked Incentive (PLI).
This scheme aims to construct three big drug parks in India with partnerships of state governments. It has been mentioned in the report that the government will provide a grant to states with a maximum limit of Rs. One thousand crores for each drug park.
These drug parks will have facilities like distillation plant, common effluent treatment plant, power and steam units, solvent recovery plant and much more.
India-Belgium extradition agreement
The Union Cabinet chaired by Prime Minister Narendra Modi has approved the signing of Extradition Treaty between India and Belgium.
The new treaty between India and Belgium will replace the pre-independence treaty signed between Britain and Belgium in the year 1901, which was also applicable to India before independence.
According to the treaty, each party consents to the extradition of a person from the other party who is accused of an extradition offence in the border area of his or her country.
Rajya Sabha approves Rs one lakh crore for Jammu and Kashmir
Rajya Sabha approved Rs. One Lakh Crore Rupees for the development of Jammu and Kashmir region for the first time. Earlier, Jammu and Kashmir presented an annual budget of more than Rs. One lakh crore.
Anurag Singh Thakur, Minister of State for Finance, said that only ten per cent of the funds will be spent for security purposes in the Jammu and Kashmir while the remaining fund will be used for developmental objectives.
Jammu and Kashmir formally became a Union Territory on October 31, 2019. Earlier, a supplementary budget was also presented for seven months from April 1 to 30 October 2019 of undivided Jammu and Kashmir.
Land acquisition done in Tamil Nadu and Uttar Pradesh to increase defence production
The Ministry of Defence announced in Parliament that the land acquisition process has been done in Uttar Pradesh and Tamil Nadu to increase defence production. Ministry also said that it was important for the government to take such steps because of development works.
The Government of India plans to increase defence exports to USD 5 billion in the next five years. The central government is expanding its investment opportunities to achieve this goal.
The Government of India has initiated several programs to enhance manufacturing in the defence sector. The "strategic partnership" model has been introduced. It highlights that the manufacturing company will have to partner with Indian institutions.
RBI to purchase bonds in advance to boost economy
The Reserve Bank has decided to buy bonds worth more than thirty thousand crores amid COVID-19 crisis.
The Reserve Bank said that 15-15 thousand crore rupees will be imposed in two instalments on 24 March and 30 March.
The Reserve Bank of India will increase the cash flow to maintain financial stability because of Coronavirus infection. Due to the coronavirus, the economy worldwide is going through a phase of lethargy.
Take Weekly Tests on app for exam prep and compete with others. Download Current Affairs and GK app
एग्जाम की तैयारी के लिए ऐप पर वीकली टेस्ट लें और दूसरों के साथ प्रतिस्पर्धा करें। डाउनलोड करें करेंट अफेयर्स ऐप
Android
IOS