Extreme weather events in world: World staggers through deadly summer of floods, wildfires, forest fires, heat dome
Several major nations have been hit hard this time with extreme weather events including the United States, Europe, Canada, China and even India. Scientists call extreme weather events human-caused climate change. View list of extreme weather events in 2021.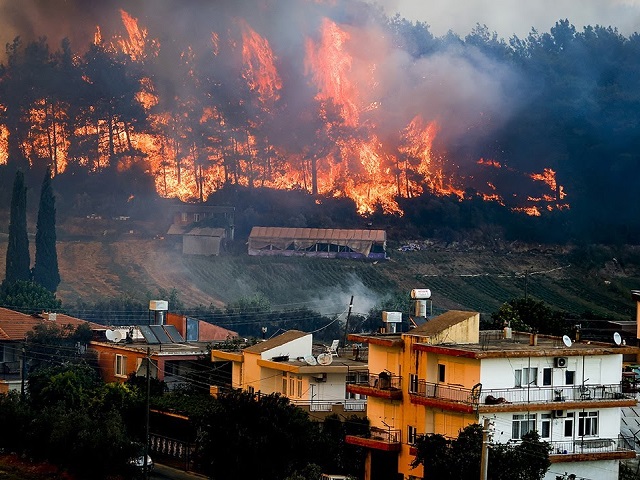 Forest Fire in Turkey
Climate change has hit the world harder in 2021 with the deadly summer bringing extreme weather events such as extreme floods, typoons and deadliest forest fires and wildfires.
Several major nations have been hit hard this time with extreme weather events including the United States, Europe, Canada, China and even India. Scientists call the extreme weather events human-caused climate change.
Climate scientists had long warned that the 21st century will see more natural disasters made worse by global warming. These climate predictions have become a reality in 2021.
From extreme floods in Europe, US and China to deadly wildfires around the Mediterranean from Turkey to Spain, the world is reeling with extreme climate change effects.
List of extreme weather events in 2021
Floods in India
Floods have ravaged several states across India including Maharashtra, Madhya Pradesh and north Bihar due to torrential rains. Jammu and Kashmir, Uttarakhand and Himachal Pradesh witnessed cloudbursts and landslides.
These events indicate the increasing intensity of extreme weather events across the Indian landscape.
Floods in Germany, Belgium, Netherlands & Luxembourg
•Devastating flash floods caused by the heaviest rainfall in Germany and Belgium left hundreds dead and several thousand missing and thousands more stranded and homeless in Western Europe.
•Streets turned into rivers, causing several shops and houses to collapse. Germany was the worst affected with fast-moving torrents of water flooding entire towns and villages in western and southern parts.
•The flooding also caused damage in the Netherlands, Luxembourg and Switzerland.
Floods in China
•China's central Henan province witnessed the heaviest rainfall in 1,000 years, which caused major flooding in cities, turning streets into rushing rivers. Over 300 people have reportedly died in the flooding and most of them in Zhengzhou, the provincial capital of Henan and many are missing.
•The flooding caused by record rainfall flooded the entire city that caused vehicles to be washed away and flooding in subways, trapping people in subway cars.
•UN Climate Change had tweeted saying, "Dramatic climate impacts continue around the world. Zhengzhou in China has seen the highest daily rainfall since weather records began, receiving the equivalent of 8 months of rain in a single day."
•As per scientists, the extreme rainfall in China is linked to global warming, just as were other climate events in the world.
Deadliest Forest Fires in the Mediterranean
•The deadliest wildfires triggered by the worst heat wave have been sweeping across Mediterranean countries and regions including Turkey, Greece and the Italian island of Sicily, causing devastating damage. Major forest fire in the northern outskirts of Athens has forced thousands to flee their homes.
•The fires and the extreme heatwave have brought the Greek electricity grid on the brink of collapse. This is the worst heatwave since 1987.
•Turkey has also been ravaged by the deadly forest fires that have engulfed several homes and resorts. The blazes even encircled a Turkish thermal power plant on August 3rd. The European Union has sent three firefighting planes to Turkey, one from Croatia and two from Spain after Turkey requested help from other European countries.
•Support teams from Russia, Ukraine, Iran and Azerbaijan have also deployed to help firefighters.
•The Turkish government has pledged to rebuild the damaged homes and compensate for the losses in areas affected by the fires.
•Sicily has also been battling the worst wildfires that reached the town of Catania, forcing people to flee their homes and the local airport was also temporarily shut down.
Heat Dome in Canada, US
Western Canada was caught reeling under a severe 'heat dome', caused by extreme temperatures when hot air is trapped by high-pressure fronts. It caused a 195 percent rise in sudden fatalities within the past five years.
In Lytton in British Colombia, the temperatures crossed 46 degrees Celsius. Even in Portland city in Oregan, United States, temperatures went up as high as 46 degrees Celsius.
Wildfires in California
Yet again this year, California is seeing the worst wildfires that have engulfed acres of land and destroyed hundreds of homes. The wildfire season is, in fact, just starting in the American West and thousands of firefighters are ready had to tackle more than 80 large blazes.