Ganesh Chaturthi 2021: Delhi Government Bans Ganesh Chaturthi Celebrations in Public Places due to Covid 19
Ganesh Chaturthi 2021: Ganesh Chaturthi celebrations have been banned in public places in Delhi due to Covid 19 third wave. Check Ganesh Chaturthi celebration guidelines here.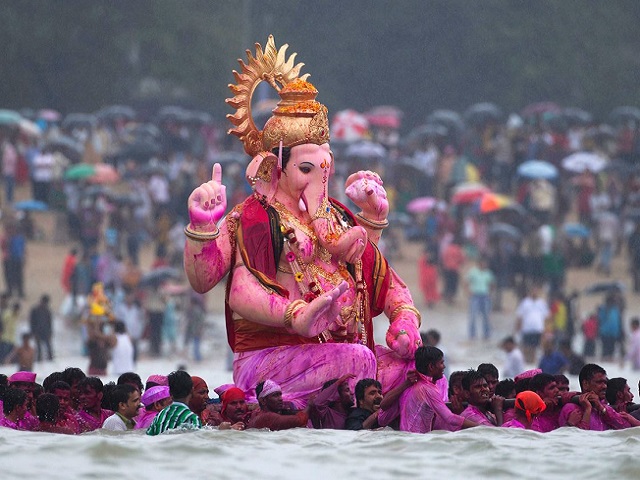 Delhi Government bans Ganesh Chaturthi celebrations in Public Places
Ganesh Chaturthi 2021: The Delhi Government has banned Ganesh Chaturthi celebrations in all public places in Delhi keeping in mind the COVID-19 pandemic. The Delhi Disaster Management Authority (DDMA) issued an order in this regard on September 8, 2021.
The DDMA order read, "Considering the prevailing restrictions on gatherings and congregations and present situation of the Covid-19 pandemic, it has been decided that Ganesh Chaturthi celebrations may not be allowed in public places and people may be advised to celebrate the festival at their home only."
All district magistrates of Delhi and District deputy commissioners of police and other concerned authorities have been directed to ensure that no idol of Lord Ganesh will be set up in a tent/ pandal or any other public place and no kind of permission will be granted for processions.
Ganesh Chaturthi 2021 Guidelines
•Lord Ganesha's idol cannot be set up in any public place.
•Public procession with idols will NOT be allowed.
•Crowd will not be allowed to gather at any religious or social place in any manner.
•People have been encouraged to celebrate Ganesh Chaturthi at their homes.
Ganesh Chaturthi Celebrations 2021: Authorities to ensure strict compliance to DDMA order
All district magistrates and district deputy commissioners of police will have to ensure strict compliance of the DDMA order. They will have to inform and sensitize all field functionaries about the instructions regarding the celebration of the Ganesh Chaturthi festival in the capital.
The concerned authorities have also been directed to convene meetings with religious and community leaders and Ganesh Chaturthi festival Samitees before Ganesh Chaturthi 2021 to ensure their cooperation to maintain law and order and harmony and to ensure that the public follows the guidelines issues for combating COVID-19.
Penalty for violation of DDMA order
The authorities will have to take appropriate actions such as the imposition of a fine for violation of the order regarding Ganesh Chaturthi Celebration and other guidelines issued by the government.
View full copy of the DDMA order below
Full copy of the DDMA order, earlier snapshot had signatures omitted as the document was zoomed into for better clarity. Error regretted pic.twitter.com/j0AduHdEDU

— ANI (@ANI) September 8, 2021
When is Ganesh Chaturthi 2021?
The 10-day long Ganesh Chaturthi Celebrations will begin this year on September 10, 2021. The festival is celebrated in the Bhadra month, as per the Hindu Calendar.
Ganesh Chaturthi, also known as Vinayaka Chaturti, is celebrated with great pomp in several Indian states including Maharashtra, Delhi, Uttar Pradesh, Gujarat, Odisha and Karnataka.
Why is Ganesh Chaturthi celebrated?
Ganesh Chaturthi is celebrated to commemorate the arrival of Lord Ganesh to the earth from Kailash Parvat with his mother Parvati.
Devotees seek the blessing of Lord Ganesha by installing clay idols of Ganesha, who is known as the god of new beginnings and remover of obstacles.
The festival ends on the tenth day with the immersion of the idol in a nearby water body, symbolising the return of Ganesh to Mount Kailash to Parvati and Shiva.
The date of the festival changes each year, as it is calculated as per the Hindu calendar. It usually falls in August or September.
Take Weekly Tests on app for exam prep and compete with others. Download Current Affairs and GK app
एग्जाम की तैयारी के लिए ऐप पर वीकली टेस्ट लें और दूसरों के साथ प्रतिस्पर्धा करें। डाउनलोड करें करेंट अफेयर्स ऐप
Android
IOS