India's Biggest Floating Solar Power Plant to be set up in Telangana
India's biggest 100 MW floating solar power plant is coming up in Telangana by May 2021. This project is expected to increase the share of renewable energy in overall power generation in Telangana.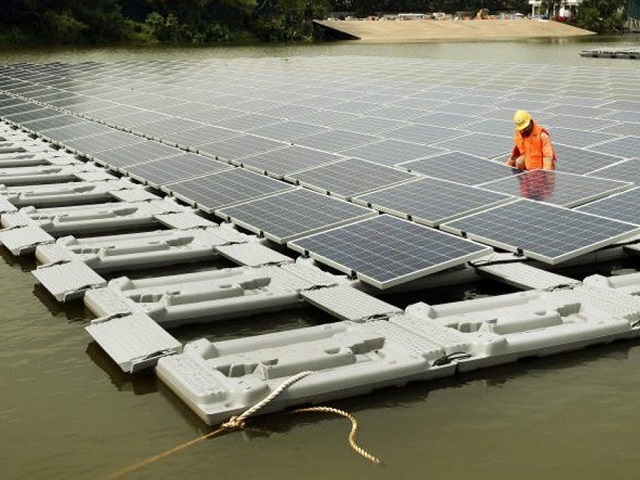 Reference Image
The National Thermal Power Corporation Limited (NTPC) is developing India's biggest floating solar plant with a power generation capacity of 100MW in the reservoir of its thermal power plant at Ramagundam, Peddapalli district, Telangana.
The solar project will be spread over 450 acres, with 4.5 lakh photovoltaic panels,subject to expansion. According to C.V. Anand, Executive Director, NTPC Southern Region, "This will be the largest floating solar plant in the country in a single location as of now."
The estimated cost of the project is around Rs. 423 crore. The project aims to attain India's target of 175 GW of installed renewable energy capacity by 2022 that includes 100 GW of solar installed capacity.
What are Floating Solar Plants?
• Floating solar plants, a viable alternative to land-based solar plants,refer to the deployment of photovoltaic panels on the surface of water bodies.
• Floating solar plants help to counter key challenges that renewable energy plants owners face such as grid connectivity, land acquisition, regulations etc.
• These also help in reducing grid interconnectivity costs, water evaporation and suppressing algae blooming which in turn increases the water quality and save on water treatment costs.
• Another advantage of installing floating solar plants is the cooling effect of the water bodies. This increases the performance of solar panels by 5-10 percent.
• The first floating solar power plant in India was constructed in Kolkata in 2014.
About World's Largest Solar Power Plant in India
• Recently, the Renewable Energy Minister of Madhya Pradesh, Hardeep Singh Dang had announced that the world's largest solar energy project of 600 MW will be constructed at Omkareshwar Dam on the Narmada river in Madhya Pradesh. The power generation will begin by the year 2022-2023.
• The official release stated the estimated investment in the solar project at Rs. 3,000 crores.
• The floating solar energy panels will work at a capacity of 600 MW power generation.
About NTPC Limited
• NTPC Limited, formerly known as National Thermal Power Corporation Limited, is India's largest energy conglomerate incepted way back in 1975 to accelerate the business of power generation in India.
• NTPC Limited, incorporated under the Companies Act 1956,is an Indian Public Sector Undertaking.
• With headquarters in New Delhi, the company's core mission as stated is to provide reliable power and related solutions in an economical, efficient and environmentally friendly manner, driven by innovation and agility.
• NTPC's floating solar power projects are an effort at reducing its carbon footprints and increase its green energy production to 30 percent of its capacity.
• It earned the title of Maharatna Company in May 2010.