Omicron Cases in India Today Update – Check State-wise List
Omicron cases in India-The Omicron cases recorded in India have risen to 9,692 as of January 21, 2022, which shows a 4.36 percent rise from yesterday.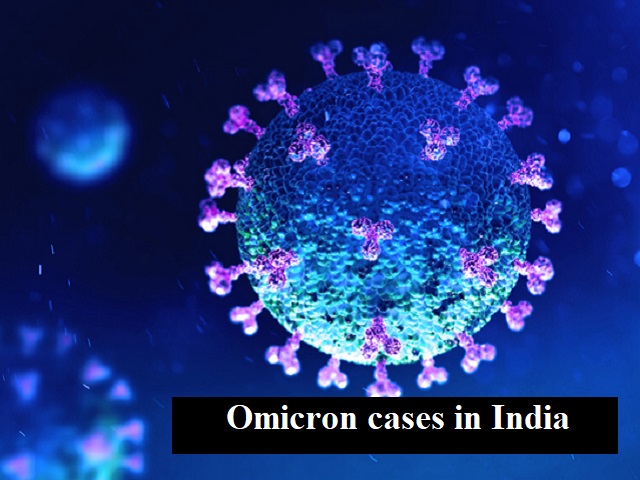 List of states where Omicron has been detected
Omicron cases in India state-wise: The Omicron cases recorded in India have risen to 9,692 as of January 21, 2022, which shows a 4.36 percent rise from yesterday. The Omicron cases have been reported in 29 states and union territories in India with Maharashtra being the worst-hit, followed by West Bengal and then Rajasthan.
The total number of active COVID-19 cases in India have gone up to 20,18,825, as 3,47,254 new cases were recorded in the last 24 hours. India's daily positivity rate has jumped to 17.94 percent from 16.41 percent yesterday, while weekly positivity has risen to 16.56 percent.
India reported 394 deaths in the last 24 hours, taking the total number of lives lost due to COVID-19 to 488396. India also reported 2,51,777 recoveries in the last 24 hours, which has taken the total number of recoveries to 3,60,58,806.
Delhi to revoke weekend curfew
Delhi Chief Minister Arvind Kejriwal recently sent a proposal to Lieutenant Governor Anil Baijal to revoke the weekend curfew in the national capital along with several other COVID restrictions such as the odd-even rule for markets and malls and allow private offices to call 50 percent of their staff.
This comes as the Kerala Government has decided to impose lockdown-like restrictions on the next two Sundays. The state cabinet decided to place the strict restrictions on January 23 and January 30, allowing only essential service on these days.
As per ICMR's latest guidelines, the contacts of those testing positive need not test themselves unless they fall in the high-risk category. Even the asymptomatic individuals, who have been discharged from home isolation or a Covid facility need not get tested again.
Read More: Defence Minister Rajnath Singh tests positive for COVID-19
Read more: Omicron may be less severe, but should not be categorised as mild: WHO Chief
Check COVID-19 cases state-wise in India
S. No.

State

Omicron Cases

Discharged/Recovered/Migrated

1

Maharashtra

1,738

932

2

West Bengal

1,672

22

3

Rajasthan

1,276

1,040

4

Delhi

549

57

5

Karnataka

548

26

6

Kerala

536

140

7

Uttar Pradesh

275

6

8

Telangana

260

47

9

Tamil Nadu

241

241

10

Gujarat

236

186

11

Odisha

201

8

12

Haryana

169

160

13

Andhra Pradesh

155

9

14

Uttarakhand

93

83

15

Meghalaya

75

10

16

Punjab

61

61

17

Bihar

27

0

18

J&K (UT)

23

10

19

Goa

21

21

20

Jharkhand

14

14

21

Madhya Pradesh

10

10

22

Assam

9

9

23

Chhattisgarh

8

8

24

A&N Islands

3

0

25

Chandigarh

3

3

26

Ladakh

2

2

27

Puducherry

2

2

28

Himachal Pradesh

1

1

29

Manipur

1

1

Total

9,692

3,109
Omicron may be less severe but not mild: WHO
The World Health Organisation Director-General Dr Tedros Adhanom Ghebreyesus warned on January 6, 2022 that "while Omicron does appear to be less severe compared to Delta, especially in those vaccinated, it does not mean it should categorised as mild." He stated that the omicron variant is hospitalising people and killing people, just like previous ones.
"Just like previous variants; Omicron is hospitalising people and it is killing people.
In fact, the tsunami of cases is so huge and quick, that it is overwhelming health systems around the world."-@DrTedroshttps://t.co/3IdBMsJler

— World Health Organization (WHO) (@WHO) January 6, 2022
The centre has directed the states and union territories to set up control rooms at the district level and sub-district levels to ensure ease of access to services for COVID Management such as ambulance transportation and hospital booking.
States of Concern- The Health Ministry had recently highlighted 8 states of concern, where there has been a massive rise in cases including Maharashtra, West Bengal, Delhi, Kerala, Tamil Nadu, Karnataka, Jharkhand, Gujarat
Read more: Omicron gradually spreading in community: Delhi Health Minister Satyendar Jain
Omicron Background
The Omicron variant of COVID-19 was first reported to the World Health Organisation (WHO) by South Africa on November 25. WHO named the new variant B.1.1.529 as Omicron and classified it as a variant of concern after it was suspected to be highly contagious. The severity of the new Omicron variant is not yet clear with several experts suggesting that it might be milder than the currently predominant COVID variant- Delta, which had caused the devastating second wave in India.
Read more: What is S Gene dropout in Omicron? How can it confirm the presence of Omicron variant; Know here
Omicron Variant of COVID: High Risk Countries List Released by India
Take Weekly Tests on app for exam prep and compete with others. Download Current Affairs and GK app
एग्जाम की तैयारी के लिए ऐप पर वीकली टेस्ट लें और दूसरों के साथ प्रतिस्पर्धा करें। डाउनलोड करें करेंट अफेयर्स ऐप
Android
IOS