World leaders including PM Narendra Modi with Bear Grylls in Man vs Wild Program at Discovery India
Edward Michael Grylls OBE popularly known as the Bear Grylls; is a survival instructor. He is widely known for his television series Man vs. Wild (2006–2011). In this series he does expedition of the different rivers, mountains, forests and oceans. Recently Bear Grylls featured with PM Narendra Modi ji in his Man vs Wild series.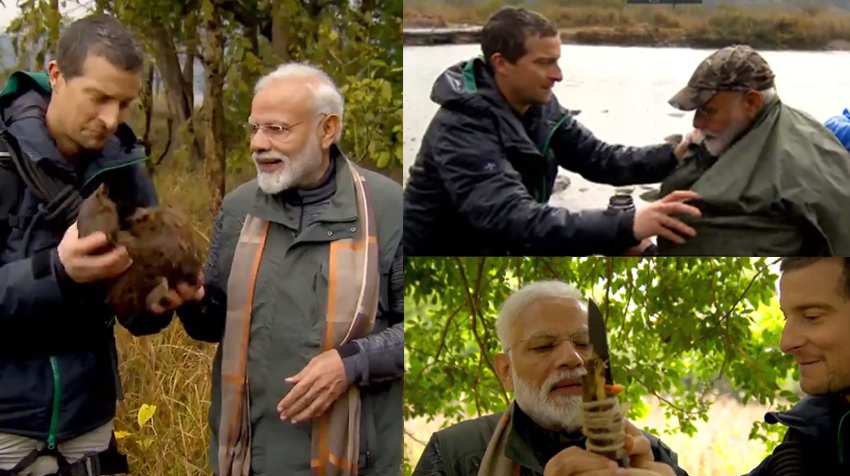 Modi Ji with Bear Grylls
Recently PM Narendra Modi appeared on the famous discovery channel with the survival instructor Bear Grylls. Let's read this article to know some interesting facts about the life of Bear Grylls and the Programme in which Modi ji participated.
Bear Grylls (born on 7 June 1974) is a British former SAS serviceman. Bear has expedited the world with many world leaders and celebrities like former US President Barack Obama, Roger Federar, Julia Roberts and most recently with our Prime Minister Narendra Modi.
Lets have some detail about the personal life of Bear Grylls;
Name: Edward Michael Grylls
Place and date of Birth: London, England in 1974
Father: Sir Michael Grylls
Mother: Sarah Ford
Occupation:
1. Chief Scout
2. Adventurer
3. Author
4. Motivational speaker
5. Television presenter
Spouse(s): Shara Cannings Knight (m. 2000)
Children: 3
Awards: Order of the British Empire (OBE)
Education: Graduate from Birkbeck, University of London in 2002.
Other records of Bear Grylls:
1. Bear Grylls climbed a the mount Everest at the age of just 23. On 16 May 1998, Grylls achieved his childhood dream of climbing to the summit of Mount Everest in Nepal. He was the youngest British mountaineer who achieved this feat.
2. Bear Grylls was appointed the youngest-ever Chief Scout of the United Kingdom and Overseas Territories at age 35.
3. He was appointed Officer of the Order of the British Empire (OBE) in the 2019 Birthday Honour for services to young people and charity.
In British Army:
Bear Grylls, is a British former SAS serviceman and honorary lieutenant-colonel. He served the Special Air Service (SAS) a special forces unit of the British Army. British Army reserves with 21 SAS as a trooper between 1994–1997. He was trained in parachuting, unarmed combat, desert and winter warfare, survival, climbing and explosives.
Adventures Trip With World Leaders
Trip with Barack Obama:
Bear has taken former US President Barack Obama on a televised journey into the Alaskan Wilderness to look at the effects of Global warming and climate change in 2016.
The president Obama tested a salmon a fish (which was allegedly tasted by a wild bear previously), made tea from water obtained from a glacier but refused to drink his own urine.
Obama said that in the extreme conditions he won't hesitate to do so but he can't do so just for a TV show.
Trip with PM Narendra Modi
Our Prime Minister Modi ji will be seen with the bear Grylls on a adventurous tour into Jim Corbett National Park to create awareness about animal conservation and environmental change. This programme will be telecast on DiscoveryIN on August 12 @ 9 pm. Bear Grylls tweeted this on 29 July, 2019.
Modi ji is also very excited about the relay of this programme. He expressed his happiness with the help of this tweet.
In a statement, Modi JI, said, "For years, I have lived among nature, in the mountains and the forests. These years have a lasting impact on my life. So when I was asked about a special programme focusing on life beyond politics and that too in the midst of nature I was very excited to take part in it.
In addition to these two world famous leaders bear Grylls has also taken Roger Federar and Julia Roberts on the same kind of adventurous trip.
In the conclusion it can be said that the job done by the bear Grylls is very influential in the way of protecting the wildlife and overall environment.
World Nature Conservation Day 2019: History and Significance