REGISTER FOR RESULTS UPDATES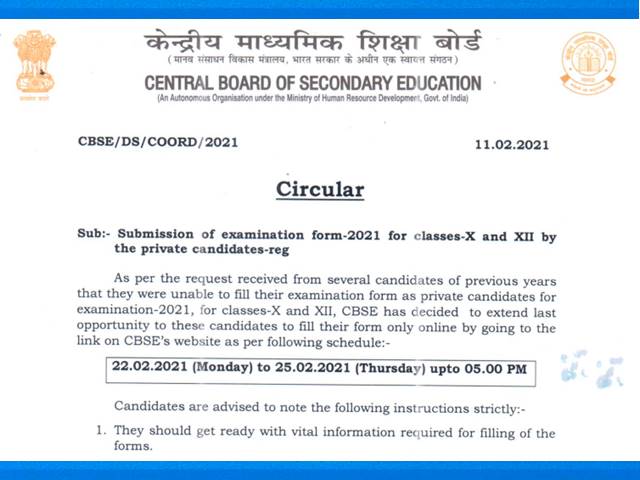 CBSE 10th and 12th Exam 2021 Application Date Extended: As per the latest update, the Central Board of Secondary Education (CBSE) has extended the CBSE 10th and 12th Exam 2021 application date for the private candidates today. Keeping in mind the concerns of the students, the board will reopen the CBSE Board Exam 2021 Application window for private candidates from 22nd to 25th February 2021. Students will be able to complete the application formalities for Class 10 and 12 Board Exams via official portal i.e. cbse.gov.in. To confirm the development, the board has also published a detailed notification about the same on the website. Students can read the detailed circular via the direct link placed below in order to get more information about the application date extension:
CBSE 10th and 12th Exam 2021 Application Date Extended – Read Notification Here
Extension upon Request of Previous Year Candidates
The decision to extend the application timeline for CBSE 10th and 12th Exam 2021 for private candidates was taken following repeated requests from several students from previous year exams. The official notification says that several candidates from previous years that were unable to fill their examination form as private candidates, because of which the board will be opening a special window soon. The special application submission window will open from 22nd February – Monday until 25th February – Thursday until 5 PM in the evening. Any student who plans on appearing for CBSE Board Exams 2021 as private candidate needs to complete the application process during this extended window.
Instructions for CBSE Application Process
As reported earlier, the application process for private candidates of CBSE Board is being held online via the official website i.e. cbse.gov.in. In order to avoid any last minute problems or delays, applicants are advised to keep the following documents and details ready with them in advance and also understand the guidelines and instructions listed below:
Gather all the necessary personal and academic details before starting the application process
Application Form will be submitted completely online
Candidates will be required to pay some late fee, as applicable
For candidates of examination-2020, old practical marks will be taken while computing the result. For candidates who took examination prior to 2020, 'Prorata marks will be awarded while computing the result'.
No further changes will be allowed in exam form, including in exam centre, so all details are to be carefully verified before submission
REGISTER FOR RESULTS UPDATES