REGISTER FOR RESULTS UPDATES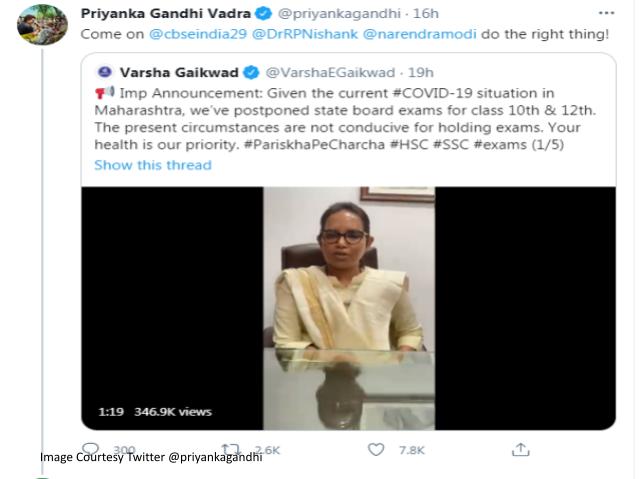 CBSE class 10 and 12 board examinations 2021: Congress leader Priyanka Gandhi Vadra has repeated her call for cancelling the CBSE class 10 and 12 board examinations and has urged the Prime Minister and Education Minister to call off the CBSE board exams and do the right thing considering the COVID-19 situation in the country.
The Congress General Secretary wrote to the union Education minister seeking for the cancellations of the CBSE board exams stating that it will be impossible to ensure the safety of the students at crowded examination centres.
Maharashtra state government postpones board exams
Priyanka Gandhi resonated with the announcement of the Maharashtra state government of postponing the state board exams for class 10 and 12 students which were scheduled to be conducted this month considering the rise in the COVID-19 cases in the state.
In the letter addressed to the Education Minister she also stated that by forcing the students to sit for the exams during a pandemic the CBSE and the government will be held responsible for any exam centre becoming a hotspot with such a large number of students being infected with the disease.
CBSE Board Exams Schedule 2021
As per the date sheets released by the CBSE, the class 10 and 12 board exams are scheduled to be conducted from May 4 to June 7 and May 4 to June 15 respectively. Officials of CBSE have stated that the exam centres across the country have been increased by 40 to 50 per cent to ensure adequate social distancing among the students.
Also Read: JNU Online Classes to continue for Current Semester, Admissions to commence by end of April
REGISTER FOR RESULTS UPDATES