REGISTER FOR RESULTS UPDATES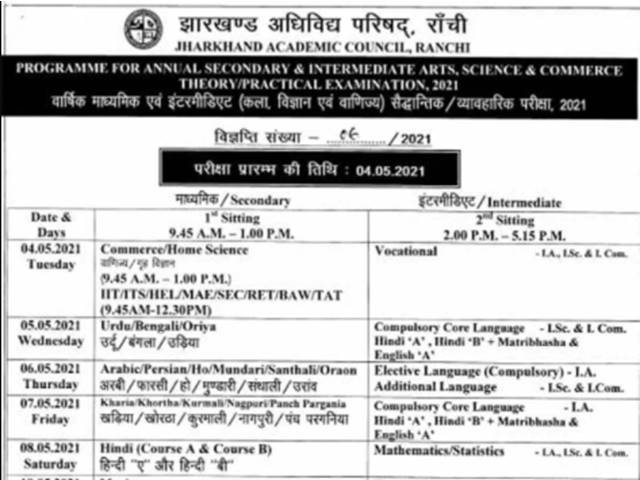 JAC 10th and 12th Exam 2021 Dates Announced: As per the latest update, the Jharkhand Academic Council (JAC) has announced that the JAC 10th and 12th Board Exams 2021 for the Matric and Intermediate Students will be held from 4th May 2021 onwards. Today, i.e. on 3rd February, JAC held a review meeting in which it was decided that the Jharkhand Board Exams 2021 will be held in May month with complete adherence to COVID-19 guidelines and protocols. The decision has confirmed media reports and speculations about the delay in holding of the upcoming board exams this year due to the pandemic. Earlier, Jharkhand Board had announced that the class 10th and 12th exams will be held from 9 to 26 March, a decision which was rolled back on direction from the Education Department of the State Government following protests by students and parents.
Subject-wise Time Table Released
Along with releasing the dates for the JAC Class 10 and 12 Exams, the Board has also released the subject-wise time-table providing the necessary details about the dates and the exam slots for the upcoming board exams. The complete time-table for the JAC 10th and 12th Exam 2021 can be checked out in the table below:
Class 10 / Secondary

Class 12 / Intermediate

Day and Date

1st Session (9:45 AM to 1 PM)

1st Session (2 PM to 5:15 PM)

Tuesday, 4 May, 2021

Commerce / Home Science (9:45AM to 1 PM)
IIT/ITS/HEL/MEA/SEC/RET/BAW/TAT (9:45AM to 12:30 PM)

Vocational - IA, Isc & Icom

Wednesday, 5 May, 2021

Urdu / Bengali / Odia

Compulsary Core Language - Isc & Icom
Hindi 'A', Hindi 'B' + Matribhasha & English 'A'

Thursday, 6 May, 2021

Arabic / Persian / Ho / Mundari / Santhali / Oraon

Elective Langugae (Compulsary) - IA
Additional Language - Isc & Icom

Friday, 7 May, 2021

Kharia / Khortha / Kurmali / Nagpuri / Panch Pargania

Compulsary Core Language - IA
Hindi 'A', Hindi 'B' + Matribhasha & English 'A'

Saturday, 8 May, 2021

Hindi (Course A & Course C)

Mathematics / Statistics - IA, Isc & Icom

Monday, 10 May, 2021

Music

Economics - IA

Tuesday, 11 May, 2021

Social Science

Geography - Isc
Psychology - IA

Wednesday, 12 May, 2021

--- --- ---

Economics - Isc & Icom
Philosophy - IA

Thursday, 13 May, 2021

Sanskrit

History - IA

Saturday, 15 May, 2021

--- --- ---

Music - IA
Physics - Isc
Entreprenurship - Icom

Monday, 17 May, 2021

Mathematics

Computer Science - Isc & Icom
Antropology - IA

Tuesday, 18 May, 2021

--- --- ---

Accountancy - Icom
Political Science - Isc

Wednesday, 19 May, 2021

English

Chemistry - Isc
Geographt - IA

Thursday, 20 May, 2021

--- --- ---

Business Studies - Icom
Sociology - IA

Friday, 21 May, 2021

Science

Biology (Botony + Zoology) - Isc
Business Mathematics - ICom
Home Science - IA
JAC Board Exam to be Held in Two Shifts
Another important aspect about the upcoming exam that was dicussed by the JAC Officials today was the exam time slots and the shift duration. To avoid overcrowding of students at exam centres, the council has decided to hold JAC Class 10 and 12 Exams in two separate shifts. During the morning shift, exams for Matric / Class 10 students will be held while the class 12th exam will be held in the second shift. To ensure complete safety of students, the council plans on ensuring complete compliance and thorough implementation of COVID-19 guidelines, SOPs and protocols for holding of the board exams.
REGISTER FOR RESULTS UPDATES