REGISTER FOR RESULTS UPDATES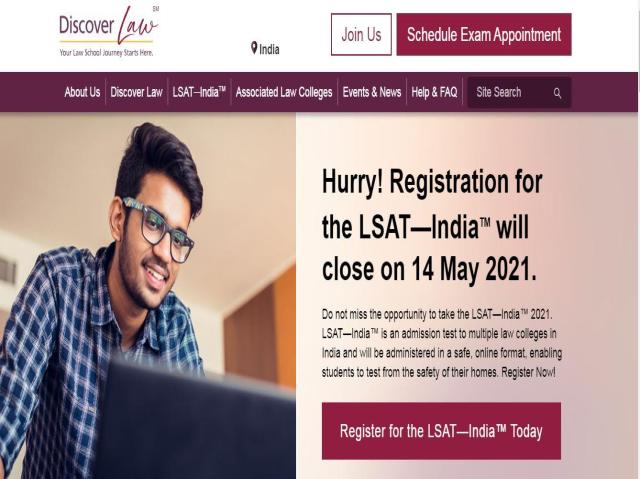 According to the dates provided on the official website, the Registrations for Law School Admission Test for India have commenced from today - May 14, 2021. Candidates interested to register for LSAT - India examinations can visit the official website to complete the registration and application process.
The LSAT 2021 examinations will be conducted in multiple days in several slots from May 29, 2021, onwards. Candidates applying for the exams are required to apply for the slot of their preference.
The link to complete the LSAT India Registrations 2021 is available on the official website - discoverlaw.in. Candidates can also complete the LSAT 2021 registrations through the direct link provided here.
LSAT 2021 Applications - Direct link
LSAT 2021 Registration process
Step 1: Visit the official website for LSAT Indian 201 Registrations
Step 2: Click on the LSAT 2021 registration link given
Step 3: Enter the details in the LSAT 2021 registration link provided
Step 4: Enter the details in the LSAT 2021 application link provided
Step 5: Submit the LSAT 2021 application fee and click on the final submission button
Exams conducted in Multiple Slots
According to reports, the examinations are being conducted in multiple slots due to the postponement of the CBSE examinations. According to an official statement released, LSAC Global is announcing that the June administration of the 2021 LSAT - India will be conducted in multiple slots starting May 29, 2021, in response to the announcement of the CBSE class 12 exams.
Reports suggest that LSAC Global in a statement announced that due to the uncertainty of the examination dates for the CBSE class 12 exams which will not be announced until June 1, 2021, LSAC Global felt that it was unfair for the current law school aspirants to have to put their exam preparations on hold. LSAC has further added that the date change assures that the exams will not fall on concurrent dates giving the students the flexibility to adequately prepare for the examinations.
Also Read: AIIMS Professional Exams 2021 postponed for various courses, Check Details Here
REGISTER FOR RESULTS UPDATES